Retreat series
Understanding and experiencing the Yoga Sutra of Patanjali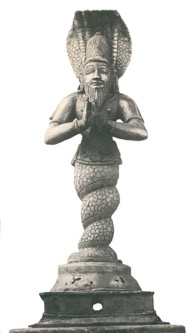 For 16 years now, we have been fortunate that Dr. Shrikrishna B. Tengshe has been imparting the spiritual essence of this fundamental work of yoga to us piece by piece in a traditional, profound and inwardly comprehensible way.
In doing so, he establishes comprehensive references to historical roots, to content-related sources as well as to analogue concepts and practice paths. The practice oriented towards this allows the essence of all this to be experienced beyond the rational mind.
Those who would like to join this group even now should have sufficient previous experience with the practice taught by Shrikrishna and intensively study the summary of the previous contents, which was created three years ago. This internal material can be purchased from us in advance, as well as the audio files or the transcription of the retreats of the past years. After studying all this, participation in this further training series is possible by individual arrangement.
Such a retreat includes extended practice sections for pranayama, meditation and mantra recitation and takes place largely in silence.
Complete withdrawal from everyday life and the mass media is highly recommended for this period in order to be able to reflect and experience deeply.
This offer is a very special opportunity especially for yoga teachers, philosophically interested and spiritually oriented practitioners. It is recommended to bring the Yoga Sutra to the seminar.
Here is an English language version, recommended by Shrikrishna: https://www.amazon.co.uk/dp/0143102192
Start:
17.07.2023
End:
23.07.2023
Timetable:
Will follow
Location:
Rosenwaldhof (Bergstraße 2 - 14550 Groß Kreutz (Havel) - OT Götzer Berge)
and externally online by stream via Zoom
Arrival:
Pick-up from Götz station possible for a fee
Language:
English with German translation
The audio recordings are made available to the course participants free of charge.
This is a closed group. All seminars build on each other. A possible new participation is only possible by arrangement. Definite prerequisites are previous experience with Shrikrishna retreats and working through the audio recordings or partial transcriptions of the last four retreats (2019, 2020, 2021, 2022). This will incur additional costs.
For more information on the nature of a seminar, see General information.
Information about the house under "locations" and on the website of the Rosenwaldhof: www.rosenwaldhof.de.
Registration and contact: click here